Digital Layout with Adobe InDesign
In this course, we explore the potential of InDesign as a design tool. InDesign is the industry-standard program for professional page layout. The focus of the class is on using the features of InDesign to develop design skills. There is an emphasis on typography. Discussions include design critiques, in which students learn how to analyze design and how to give and receive constructive criticism. Prerequisite: Familiarity with the Mac operating system, and some exposure to Illustrator or Adobe products is desirable. CS Adobe InDesign will be used in the course. Online students must have InDesign CS or higher (Mac or Windows platform). Discounts on Adobe products are available to online students through my.newschool.edu.
Programs:

Format:

Online

Section:

X1

Course Number:

CRN 5091 - PCDD 1450 X1
Instructor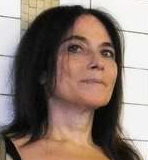 Angie Cohn
Multimedia Artist.Education: BA, University of Maryland; MFA Columbia University. Exhibitions/screenings include: The Exhibition Space at 112 Greene Street, The Knitting Factory, Humphrey Gallery. New York Foundation for the Arts Fellowship recipient.
Read More