Science+Art+Design Workshop Sustainable Dyes: Microbial Pigments
Location:
University Center
63 Fifth Avenue, New York, NY
Come to the labs to "paint with living bacteria," learn how pigments can be applied to textiles, and how environmental factors and genetic differences affect color profiles.
Textile work is a $3 trillion-per-year industry which employs nearly 60 million people worldwide, according to economic research firm Euler Hermes and FashionUnited, an industry information resource. This industry has shifted its practices from chemical dye processes to natural dye processes and most recently has begun to explore biological pigments from bacteria, and algae to color textiles. This latter process reduces land and water use for plant growth, CO2 emissions required for heating dye baths, and chemical treatments required to chemically reduce the dyes to adhere to fibers.
This is a two-session workshop. You must attend both dates to see results.
March 7th and 8th, or March 14th and 15th.
Article: Bomgardner, M. July 15, 2018. These new textile dyeing methods could make fashion more sustainable. Chemical & Engineering News. 96 (29): Link
Time Lapse Video and Ted Talk: Howard, J. April 4, 2016. This Artist Paints with Bacteria, and It's Strangely Beautiful. HuffingtonPost (Maria Peñil Cobo NEB Labs, and TEd Talk- 15 min). Link
Critical Editorial: Ginsberg A. and Chiez, N. Feb 1, 2019. Editorial: Other Biological Futures. Journal of Science and Design. Link
Link to More Resources.
This event is sponsored by The Department of Natural Sciences & Mathematics at the Eugene Lang College of Liberal Arts and The Provost Office.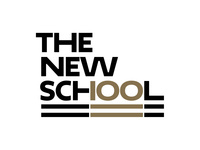 This event is part of The New School's Centennial celebration. Learn more at newschool.edu/100 • #100YearsNew